News Archives
The Star News, McCall ID.
August 30th, 2012 Front Page logo application
BY KENDEL MURRANT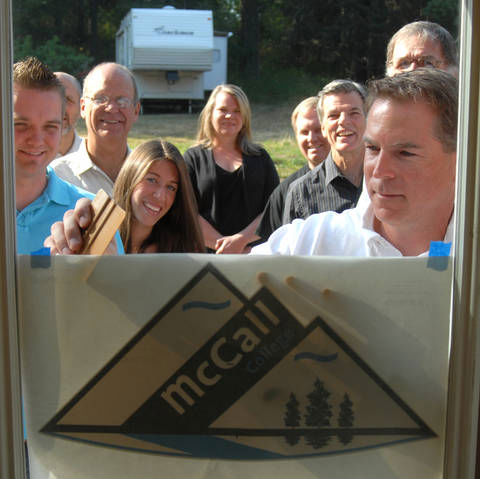 For The-Star News
Plans for a two-year community college in McCall got a boost last week when the McCall City Council approved a site for the school.The council approved the request by McCall College to use of 6,000 square feet in the Park Place Professional Center near downtown McCall. The school plans to open in phases, starting with some community programs in October.
There are a number of steps that need to be completed before the college launches into a semester-style accredited school, said Dr. L. Bryan Williams, organizing director of
the college.
But supporters are confident McCall College will meet the needs of its students from the
start, Williams said.
The school plans to start professional technical courses in January, offering classes in computer science, creative writing, entrepreneurship, and adventure leadership.
It also plans to facilitate online courses and offer tutoring and proctoring for courses and tests from other schools.
Williams, who is the pastor and CEO of McCall Church of the Nazarene, said the approval of the site allows McCall College to actively begin fundraising and recruiting.
"We want to make McCall a premier destination college," Williams said. "We want to build a program that will be unparalleled to anything in the Pacific Northwest."
The college will focus on hybrid education that incorporates alternative teaching methods, including an emphasis on online materials and teaching.
That will help establish the school and make it practical for multiple kinds of students, from working adults to post-high school students, he said.
Williams is even looking for dorm-style housing for students, possibly working with area summer camps.
The school's private, independent status gives it freedom to tailor offerings in a way that's a good fit for the community and the students, Williams said.
Language arts and business programs are most in demand by students, according to results so far from an online survey about the college.
Those needs just happen to fit the current faculty's skill set, Williams said.
The administration and faculty of the college are now working as volunteers, but plans call for paid positions as funding comes in, he said.
"Everyone's just doing what they can, which means they're doing everything they can do," Williams said.
"(The faculty) has a passion to educate our community and kids to a level not currently available in a face-to-face environment," he said.